Are you also like me when it comes to the question "who is responsible for the minutes of our meeting"? Normally, no one steps into the front row. What if you are in the position of the moderator and at the same time you know that minutes are important (because of the fleeting nature of the spoken word) :)
Beside the format, it's a topic of workflows. Where to store and in which format? And the most important: who steps into it?
The answer is easy
HedgeDoc (formerly known as CodiMD) is a wonderful solution for collaborative writing. EVERYONE in your meeting is able to access it. You, as the host, decide whether the editing of the notes is open to the whole world or limited to the users of your infrastructure. My understanding is that it depends on the format. Minutes for a meetup can be open to the whole world. Minutes for a project meeting should only be open to trusted users.
No more excuses
I know. Not everyone is familiar with the Markdown format. But it is easy to learn. And it's easier than learning templates in Microsoft Office or LibreOffice. There is a WYSIWG editor in HedgeDoc and a comprehensive tutorial and online help. My guess is: 5 minutes and everyone is able to write minutes with style :)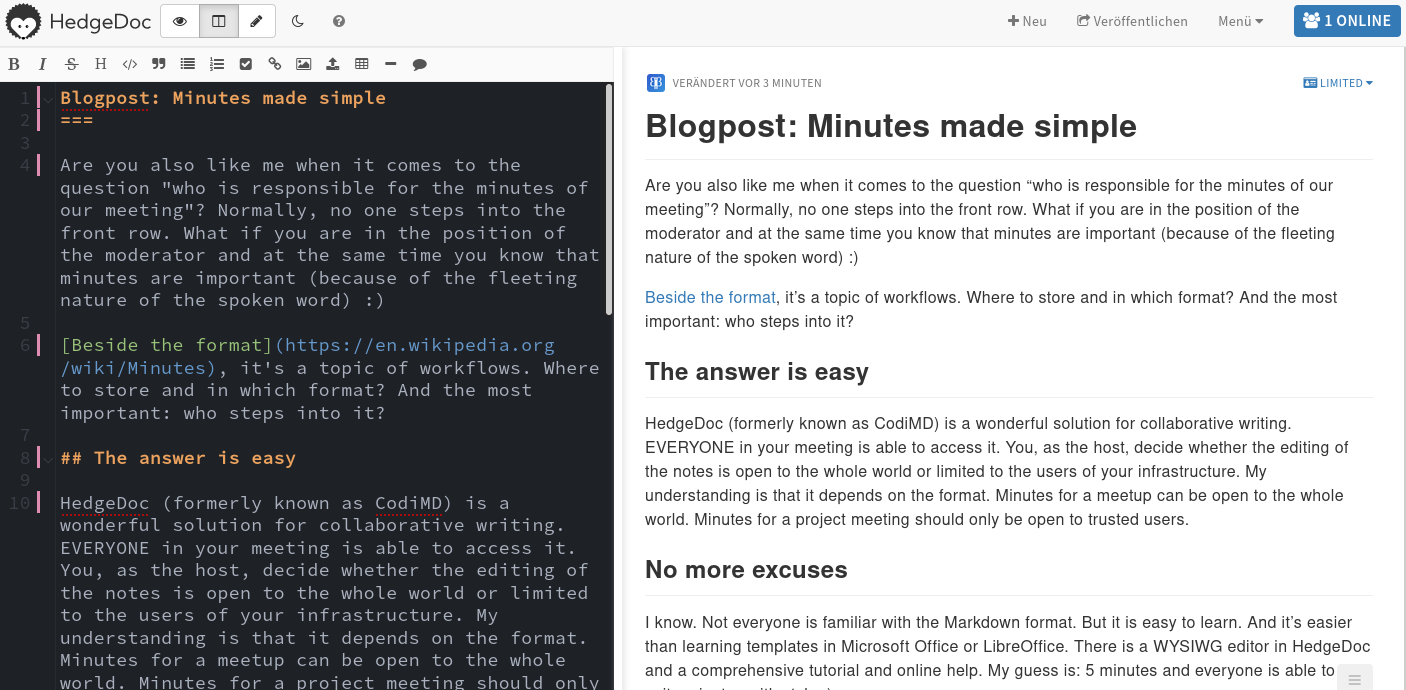 If you find HedgeDoc as impressive as I do, don't just use it for minutes. You use it for your ideas and you can use it for your next presentation. Forget Google Docs. HedgeDoc is capable of being THE TOOL for your next keynote - on your own infrastructure! You no longer have to be ashamed that it says docs.google.com in your browser.
The bad side of HedgeDoc
Let's be clear. HedgeDoc is not accessible at the moment. The community is aware of the issue. For me, it's a reason to switch to Etherpad because of a blind teammate.
Are there any other bad sides at the moment? No. Use it without restrictions if you don't have blind people in your team. I know this is not the perfect answer, but as a non-blind person, HedgeDoc is THE tool for me at the moment.
And remember: Whoever writes is right!
Links
HedgeDoc
https://hedgedoc.org/
https://forum.cloudron.io/category/38/hedgedoc
https://docs.cloudron.io/apps/hedgedoc/
Cloudron
https://www.cloudron.io/get.html
https://forum.cloudron.io/category/4/support