Yes. https://docs.cloudron.io/apps/kutt/ is hard to spell on a phone call. The alternate way of explaining navigation ("type cloudron.io into your browser, click docs, then click apps, then kutt") isn't exactly short either. So an idea was born. URL shortener.
We all know bit.ly and tinyurl.com. Twitter uses one under its t.co domain. They all come with some sort of built-in analytics. But as a self-hosting enthusiast, SaaS is not the solution for me.
Variety in the app store
Good to know that we have two URL shorteners in the Cloudron app store. YOURLS and Kutt. Both do the same thing. I personally like the UI of Kutt a little more.
The workflow is simple. Copy and paste the destination URL into the form field. Create a random URL string under your domain, or choose an easy-to-remember one. Save the input and communicate the new shortened URL.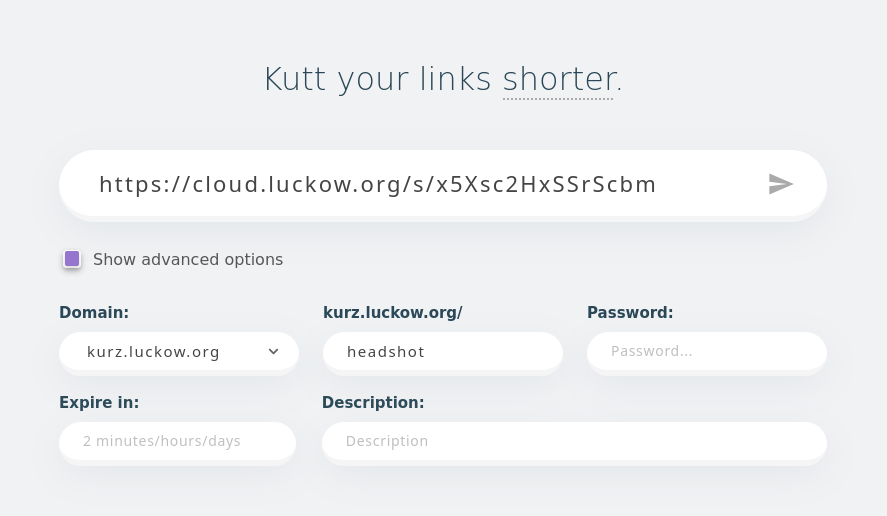 The result looks a way better in my opinion. Instead of sharing my Headshot via Nextcloud share link https://cloud.luckow.org/s/x5Xsc2HxSSrScbm, I've created a Kutt link with a custom address. https://kurz.luckow.org/headshot
Sustainable URLs
But for me, the most interesting part of the URL shortener is the ability to replace the target URL. Think about an annual event like the CMS Garden Unconference. Every year we create a new landing page in our CMS. A new landing page means a new URL. It is possible to communicate the newly generated URL to the audience. But it's easier for us to use a URL shortener to create an easy-to-remember URL for that particular use case. Et voilà. https://go.cms.garden/unconference
I have found a lot of practical use cases for my daily work. For example, can you remember a BigBlueButton URL for a specific BBB room? I don't. I have created easy to remember URLs for my weekly/monthly/board meetings.
Firefox Add-on
If you use Firefox, install the Kutt or YOURLS add-on. URL shortening/remembering is just a tap away.
Links
Kutt
https://kutt.it/
https://forum.cloudron.io/category/111/kutt
https://docs.cloudron.io/apps/kutt/
https://addons.mozilla.org/en-US/firefox/addon/kutt/
YOURLS
https://yourls.org/
https://docs.cloudron.io/apps/yourls/
https://forum.cloudron.io/category/93/yourls
https://addons.mozilla.org/en-US/firefox/addon/yourls-shortener/
Cloudron
https://www.cloudron.io/get.html
https://forum.cloudron.io/category/4/support